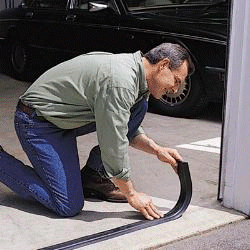 Your garage is an important part of your home, and you can make it more secure and comfortable by keeping your seals properly maintained. To get the most from your garage door seals, you will need to be protected at the four key areas for the most effective seal. There are three main types of seals you can use to keep your garage door working optimally, they are garage door threshold seals, garage door bottom seals, garage door weather strip seals.
Garage seals that affix to the bottom of the door are usually made of either vinyl or rubber. These materials are both highly flexible which allows them to compress and close the gap between your garage door and the ground when the door is closed. By closing this gap, you are able to prevent vermin, bugs, dirt, water and moisture from entering the garage through the bottom of the door. Depending on what model door you have, the seal may me attached to a metal track. Wooden doors typically have the strip directly attached to the bottom of the door itself. If you can see light under the edge of your garage door, then you know its time to call Master Garage Doors & Gates to have your seal replaced or any other garage door repair los angeles request.
Garage Door Seal Repair
A threshold seal for your garage door functions in the same way as the door bottom seals, but they are intended to be affixed to the floor only. These seal are much more durable and tend to be higher in quality than those that attach directly to the door. This type of seal also keeps out unwanted elements, but also doesn't allow water to run out of your garage freely during cleaning. You are able to use both seals at the same time if you want extra protection, but only one is required for full coverage.
Weather strip seals for your garage door are made to fit on the sides and top of your door. This is handy since water, rains, wind and dust can all enter through any open crack, including those on the sides of your garage door. This type of seal is usually sold as one large piece, but can be cut to fit the size of your garage door. Pairing the Weather strip seal along with the bottom and threshold seal is a good way to make sure your garage door is weatherproof.
Protecting your garage door from the elements will keep the motor running smoothly and without service longer. Keeping dust and water off of the garage doors metal parts will also help prevent rust buildup that can harm your garage door's mechanisms in the long run. Master Garage Doors & Gates is only a phone call away for your next garage door seal repair job.
Jump to: Garage Door Tips