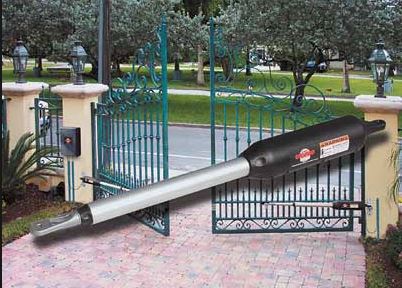 Property owners that have larger land areas benefit most from the use of an auto Swing Gate Opener. These are typically run by swing gate operating mechanisms. Taking proper care of your swing gate operator is the best way to ensure it longevity. Taking the time to grease and oil the moving parts at least four time per year will keep you from having to replace your operator due to malfunction. Even if you take care of your swing gate operator, there still may be times when it needs simple repair. Master Garage Doors and Gates is on call to assist you with your swing gate repair project, but there are a few tips we can offer to help you deal with minor problems that may arise with your swing gate operator.
The operator isn't responding- sometimes making sure the operator has power is all you need to fix this problem. If your swing gate works on a key pad system, check to see that the display is lit. If the power is on, try depressing a few keys, normally, when key are depressed, there will be a sound from the motor housing. If there is no sound, check the power source.
Swing Gate Operator
Transmitter troubles- if everything on the main unit is power and works manually, the problem may be with the transmitter. Check to see if the lights on the transmitter are blinking to show power. Also consider changing the batteries before calling a professional service provider.
Gates not closing- if your swing gate seems to be halted in the open position, try waving your hand near the photo cell of the operator. When you pass your hand by the photo cell you should hear a slight ticking sound. Make sure you try both photo cells, if no sound emits, you will need to check your safety beam. Sometimes the problem is as simple as removing debris from the path of the beam, but if that doesn't work you will need to call Master Garage Doors and Gates for comprehensive repair for your swing gate.
Gate not opening- if your swing gate doesn't open and there is no problem with the power supply to your swing gate, check to see that the gate isn't stuck in the closing bracket. If so, you can apply slight pressure to uplift the gate from the track and un-jam the swing mechanism. Closing problems should always be serviced by a professional since there are alignment and calibration issues that have to be attended to keep you swing gate operator working properly.
If you see any type of wires exposed in your swing gate operator, turn of the power and call Master Garage Doors and Gates. You should never try to repair exposed wires yourself since there is danger of electrocution. Our experienced staff is always on hand to offer you a no obligation consultation regarding your swing gate operator repair project.
Visit Gate Repair Van Nuys
Return to: Gates Los Angeles